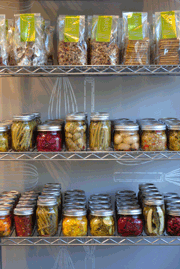 Retail
We have a great line of packaged food that ranges from roasted nuts to house-made caramels. The selection is always changing, so check back often!
We do more than bake, too: we also have a full line of pickles, jams and other delicious canned foods. Our produce comes from Tangletown Gardens, and it's fresh and pesticide-free.
---
Catering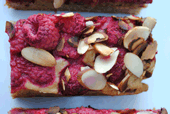 Bars Bakery is happy to help you with your catering needs. Bars are a wonderful addition to a dinner party, business meeting, or weekend dessert plate. We are happy to cut our bars into thirds or halves for events or your buffet table. We are also happy to provide caramel rolls or scones for a breakfast at home or at the office. Please don't hesitate to ask about your catering needs; we are happy to be as accommodating as we can.
Winter Catering menu:
Mignardises Platter
An assortment of mini bars and seasonal cookies.
Small: serves 10-12 $38.00; Large: serves 18-20 $68.00
Bars Bakery Pies
All pies are 9 inch and serve 6-8 $24.00
Apple
Apple Cranberry
Lemon Chiffon
Maple Bourbon Pecan
Chocolate Ganache Caramel Pie
Butterscotch Pie
Banana Cream Pie

Tarts
9 inch tart pan serves 8-10 $24.00
Chocolate Pecan
Lemon Tart
Apple Tart Tatin
Apple or Pear Crostada

Bars Pastries Platter
A perfect assortment of our famous morning pastries (scones, caramel and cinnamon rolls, muffins).
serves 10 $28.00
Savory Platter
An assortment of our great savory tarts with a butter crust or puff pastry. Perfect small bites to start your next event.
Small: serves 10-12 $48.00; Large: serves 18-20 $78.00
Traditional French Quiche
A delicious quiche made with fresh eggs, cheese and cream in a flakey tart dough. Choice of ham or vegetarian.
serves 8-10 Veggie: $24.00; Meat: $26.00
Savory Bread Pudding
Ham and Cheese Croissant bread pudding. Served in a pie plate cut into wedges make a great breakfast.
serves 6-8 $26.00
---
We require pre-payment and prefer 48 hours' notice.
Contact us at 651.224.8300 or